New slick website developed by SportLoMo and Fermoy officials.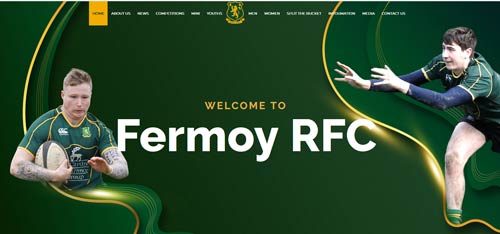 Rugby is steeped in history in Fermoy.
The club has an interesting history which can be seen below or visit the site for more https://fermoyrfc.ie/
Fermoy RFC – About Us
Steeped in history, rugby was first played at Fermoy by members of the British Army, who, in the 1900's established their military barracks in what was then a garrison town.  The club disbanded in 1922 when the British army moved out and the first Irish Free State was established.
Fermoy RFC was reformed in 1970 by founding members John McCarthy, Bernard Hyde, Tom Lawton, Tom Kelly and then club captain Dick Heaslip, father of Ireland International Jamie Heaslip.
The famous Munster team that defeated The All Blacks in 1978 trained at The Showgrounds using cars to light up the pitch to train.
There was originally one playing pitch at the time of the club's formation.  Over the years a second pitch was added and in the late 1990's flood lights were installed on both pitches.
The club currently has a very strong mini section for boys and girls U6 to U12's, we also field boy's teams at U13, U14, U16 and U18.5.   The club is delighted with the revival girl's rugby fielding at U16 and U18.
We also field two adult teams with our 1sts playing in Division 2 of the Munster J1 league.  Down the years the club has produced many players who represented Munster at underage and Junior level and have many more move on to play in the AIL leagues and has produced two Internationals in Mike Ross and Leah Lyons.