Your All-In-One Sports Companion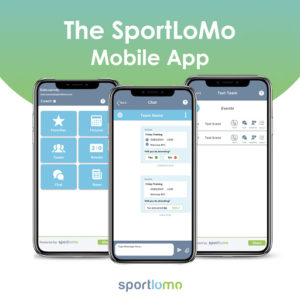 Do you want to avoid juggling between multiple platforms to keep up with your favorite sports club's schedule, fixtures, results, and news? Have you ever missed a significant event or struggled to manage attendance for training sessions? 
Well, worry no more! The SportLoMo Club App is here to revolutionize how you experience and manage your club's activities.
The SportLoMo Club App was created with players, coaches, parents, and club administrators in mind. It's an easy-to-use tool that will make managing sport more convenient and effective for your club.
Let's take a closer look at what the SportLoMo Club App has in store for you:
Club Fixtures and Results at Your Fingertips
Say goodbye to frantically searching for match fixtures and results. With the SportLoMo app, you can effortlessly check your club's fixtures and results with just a few taps. Additionally, you can add your favorite teams and competitions to your favorites list for quick and easy access. 
Never miss an important game again!
Seamless Communication
Staying connected with your team has always been challenging. The app's chat feature lets you receive messages, and event invites from your coaches (or your kids' coaches) ensuring you are always in the loop. 
As a coach, you can leverage this feature to send attendance requests for training sessions and club events. Thanks to the intuitive interface, keeping track of who can and cannot attend becomes a breeze.
Hassle-free Attendance Management
For coaches, the SportLoMo app offers a convenient way to record player attendance for various events or training sessions. The dedicated "teams" section allows you to keep an accurate count of the participants, streamlining your administrative tasks and saving valuable time.
Stay Informed with News Updates
Stay updated with the latest happenings in your club through the app's news feature. From exciting game highlights to important announcements, you'll never miss a beat. 
The SportLoMo app ensures you are well-informed, keeping you engaged and connected with your sporting community.
Continuous Improvements and New Features
The team behind SportLoMo is committed to enhancing your sports experience. Expect regular updates and the addition of new features that will further streamline your interactions with the app.
The developers try to provide the best possible user experience and ensure the app remains at the forefront of sports management technology.
Available on Android and iOS
No matter which mobile operating system you prefer, the SportLoMo app covers you. It is available for download on Android and iOS app stores, ensuring you can access its impressive features regardless of your device preference.
Say hello to a smoother and more enjoyable sports experience! Download our Club App now from App Store or Play Store.