Elite Football League, Junior Premier League, UK joins Sportlomo. Junior Premier League is at the forefront of elite youth football in the UK.
The Nerf Junior Premier Football League (JPL) has been incredibly successful and is now in its 7th season, becoming a widespread phenomenon throughout Great Britain with over 500 teams representing 29 County FA regions.
JPL bridges the gap between grassroots football and professional academy football. Teams, from u9's up to u17's perform at an elite level to ensure better quality matches. This enables clubs to develop their own local players who can realistically progress all the way to their first team. Entry criteria for clubs are tough, focusing on quality over quantity.
JPL was conceived by a group of large clubs from the Midlands & Southern England and is sponsored by NERF (part of Hasbro International Ltd).
[av_heading tag='h3′ padding='10' heading='The Junior Premier League is the First and Only FA Licenced Coaches Club League in England.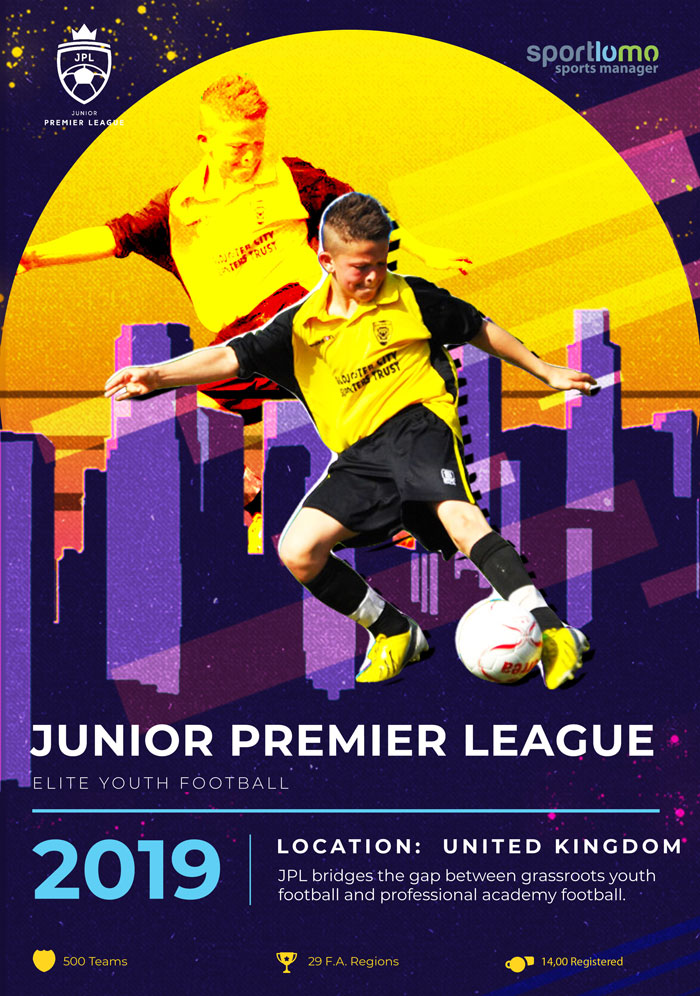 Junior Premier League, NERF Elite Youth Soccer League. Developing Elite players, teams and coaches.
Sportlomo is delighted to have signed up such a prestigious football organisation and is very much looking forward to working with JPL.
JPL will use the full Sportlomo platform from competition management, game and stats, live scoring, team sheets, referee and match official management. The league will also take membership payments online with the Sportlomo Membership Registration system.
The JPL has always been at the cutting edge with the use of technology and online communications.   They request never to send paperwork to the league as all admin is done online. The league is constantly working to improve their systems to suit the needs of their clubs and technology is an extremely important part of this.
Over 11,000 unique visitors per week visit their website with over 6 million page views per season.
The Junior Premier League was conceived in 2011. The league launched for the start of the 2011/12 season.  Affiliated with Birmingham County FA.
The league is aimed at clubs who want to develop their players through a 'best with best' ethos – the NERF JPL is not aimed at single teams looking for a new challenge.
The ethos of the League is always development before results and the main aim is to give a season's worth of top quality competitive matches to every team participating.
The league has very high minimum standards in terms of coaching qualifications and all coaches must be members of the FA Licensed Coaches Club.  JPL is the only League in the country to be designated as an FA Licensed Coaches Club league.  Almost 50% of JPL's coaches are Youth Module 3 or UEFA B qualified.
JPL secure Charter Standard Award
A recent achievement was the securing of the Charter Standard award.  After working with the local county FA's and in particular Birmingham County FA, JPL has received the official Charter Standard League Award.
The Nerf Junior Premier League has always embraced Futsal and has promoted it since it started in 2011.   Since then over 14,000 players enjoy the game of Futsal and have seen some amazing games and had many National champions at various age groups.
Over 400 teams participated in the last futsal tournament – making it the largest futsal tournament in the country.
JPL will be implementing a new and groundbreaking Futsal league programme. A separate stand-alone Junior Premier Futsal League (multi-region) is also planned. This will be for any team that plays Futsal, so they will be actively recruiting Futsal clubs. They do not want this to be a Football League playing Futsal, but a Futsal League with it's own identity.
Vist Junior Premier Football League Website