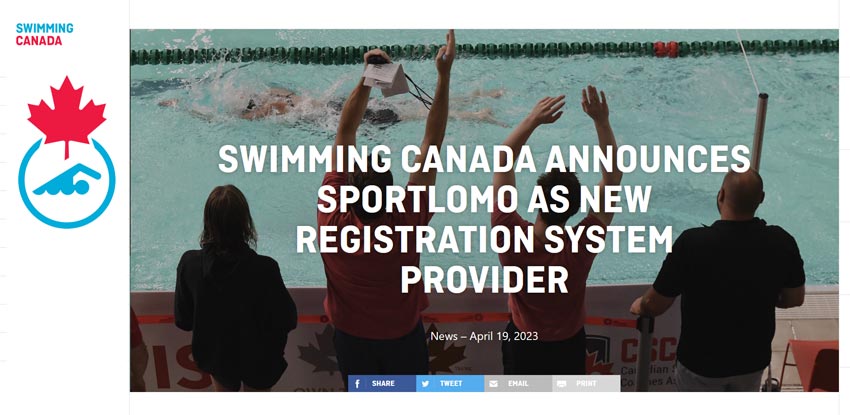 SportLoMo is delighted to announce its new partnership with Swimming Canada, the national governing body for competitive swimming. Together, we will introduce a new, user-friendly admin management system to its members and participants.
The main objective of this partnership is to establish a smooth registration process for clubs and individual participants looking to sign up for Swimming Canada's events and programs. Furthermore, SportLoMo will provide Swimming Canada with efficient data management and analysis tools, revolutionizing information handling for the sport. 
SportLoMo is currently working on the new system in collaboration with Swimming Canada, and the official inauguration of the platform is set for the 2024/25 season, in September 2024. 
"We are delighted to have been selected by Swimming Canada as their registration system provider," said Seamus Kyne, CEO SportLoMo. "We look forward to working with the team at Swimming Canada to help them achieve their goals and to provide their members and participants with the best possible experience." 
The CEO of Swimming Canada, Ahmed El-Awadi, said "We are thrilled to be working with SportLoMo. Their expertise and commitment to providing the best possible solutions for sports organizations make them the perfect partner for us as we continue to evolve and grow our sport in Canada". 
About Swimming Canada
Swimming Canada is the national governing body for competitive swimming in the country. It was established in 1909, as the Canadian Amateur Swimming Association.
Swimming is among the most celebrated and successful Canadian summer Olympic and Paralympic sports. Swimming Canada encourages Canadians to embrace sport, fitness, and health as a lifestyle through world-leading performances.