Engineering Lead, Noreen McManamon presents at Rugby Canada's AGM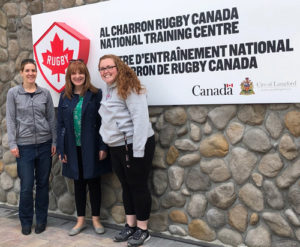 Left to Right:  Nina Mittendorf, Noreen McManamon and Noël Woodward outside Rugby Canada Headquarters.
British Columbia and Ontario Rugby commenced using SportLoMo for competition and league management for their 2016-2017 season.  And in June 2017 SportLoMo was selected as official supplier of the National Sports Organization.
All Rugby Member Registration across all Provinces in Canada is taken on the SportLoMo system.  Many of the Provinces have also selected SportLoMo for their League and Competition Management, Quebec, Sask, Ontario, BC, Manitoba, Alberta, New Brunswick and Nova Scotia.  Sub Provinces Calgary and Edmonton also use the system.
SportLoMo has also developed a number of websites for the Provinces.  The latest one will be Quebec Rugby due to go live the first week in May.
Noreen will also give extra training on the system to Noël Woodward and Nina Mittendorf at Rugby Canada Headquarters.
Following Noreen's visit to Victoria, she will meet with Volleyball British Columbia.  Volleyball BC are a new client of Sportlomo.  http://www.volleyballbc.org/
CEO, Seamus Kyne meets Sports In New York, Boston and Canada – first two weeks in May.   Seamus is meeting soccer leagues in NY and Boston and is also meeting with The International Gay Bowling Organization (client) in Boston.  He then flies to Canada for further meetings in Montreal, Vancouver and Calgary.