Thousands flood to Volleyball Nationals 2022
After two years of cancelling Nationals, the 2022 Volleyball Canada Youth National Championships have kicked off at the Edmonton EXPO Centre (May 18-24).
This is a huge action-packed week of excitement and competitions, the event will bring close to 800 teams to the Alberta capital, with approximately 9,600 athletes, 14,000 spectators, and over 30,000 participants. In addition to Nationals competition, the Women's National Team and both Sitting National Teams will be on site.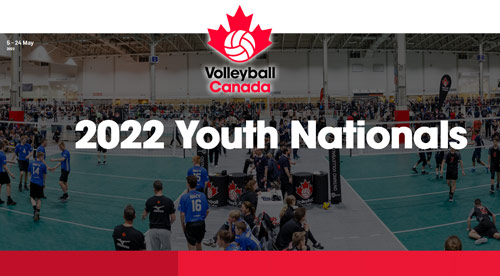 Event passes for admission were purchased on SportLoMo Events software.  Many selling out in minutes!
The Men's Sitting National Team will play five international matches against Team USA and the Women's Sitting National Team will face Team Italy in seven games.
In addition to the international matches, the Edmonton Nationals will include a Speaker Series, VC Jump Off, live DJ, and much more.
A full calendar of events
https://volleyball.ca/uploads/Competitions/Nationals/2022/Edmonton_2022_-_Events_Calendar_v4.pdf
Streaming
For those not at the venue, select games will be streamed on the Volleyball Canada YouTube page  https://www.youtube.com/channel/UCL2BCjWUDAgdYQVSy79ynpg